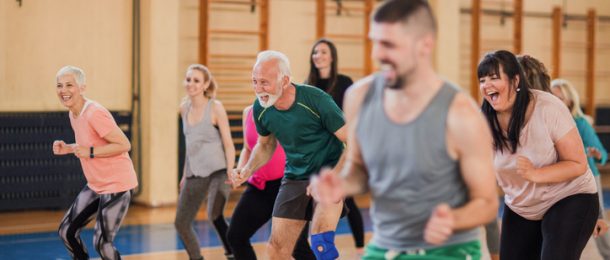 Working out when you suffer from chronic pain is not easy, but there are ways to stay active while improving your mood, your energy, and ultimately reducing your pain.
Your fitness regimen is just one part of your busy schedule. Like doing laundry and paying the bills, you work out because it's a necessary part of a healthy, balanced life, not because you enjoy it.
However, it can be difficult to do when your pain dictates when you're able to work out. Some days are better than others, but the pain is always there, becoming a big reason why you skip out on staying active.
Does that sound like you? While it's true that staying active is a necessity, that doesn't mean it can't be enjoyable and a supplement to your chronic pain therapy and treatment.
If you want a workout routine you actually look forward to, follow these tips for adding self-care into your fitness regimen.
Improve Your Mood With Your Gut
Before we discuss workout tips, it's important to become familiar with how your gut functions. There are so many areas of the body that are connected to your gut health, but one of the more surprising aspects is mood.
Yes, emotions aren't just a part of the brain, they're actually affected by what we put into our bodies. How?
Serotonin, the hormone that improves mood levels, is secreted in the gut.
Without healthy bacteria to support this function, your positive emotions can become negative.
If you want to feel better during workouts (and on those days when pain keeps you from them), pay attention to what you're putting into your gut.
Reach for foods that contain probiotics such as kefir and yogurt. Avoid antibiotics when you can, as they can destroy the gut bacteria that are needed to improve your mood, digestion, and the immune system.
Schedule Your Workouts
Scheduled workouts might sound like the opposite of fun.
In truth, a schedule is key for taking the stress out of your exercise regimen. If you're always thinking about how you should work out but don't follow through, you're wasting energy making excuses instead of doing things you enjoy.
Scheduled workouts encourage you to follow through on your exercise plans. They also keep your day predictable so it's easier to make plans with friends and family.
Don't assume you need to commit to a two-hour block for fitness. If you're pressed for time, work out in shorter chunks, like 30 minutes at a time.
Keep a back up activity plan in mind as well.
For example, if you're having a flare up, opt for a gentler activity such as yoga or water aerobics as opposed to your typical walk or jog.
The key is not to skip, as inactivity can increase your pain.
According to Harvard Health, "limiting your movements can weaken muscles, compounding joint trouble, and affect your posture, setting off a cascade of further problems."
Any sort of movement, whether it's gentle stretching or a full on yoga class is beneficial now and in the future, helping to strengthen muscles and joints and restore flexibility.
Keep the Biggest Picture in Mind
Exercise does more than strengthen your body. It is also a time when you can clear your mind and purge your thoughts of negativity. Being mindful during your fitness routine is one way to maintain your mental well-being and work through your pain on an emotional level.
When you exercise, you have the opportunity to feel your body and how it reacts to movement. You are in control, not your pain, and it's a rewarding feeling.
While you move all the time, running, lifting weights, and other exercises are intentional, and you get to focus on how, when, and why you do these things. Couple this with soaking up your surroundings, and exercise becomes meditation while in motion.
Before you begin your workout, take the time to give yourself permission to let go of the day. Be clear in your intentions.
Do you want to swim for 30 minutes?
Is your goal today to simply walk a path you've never adventured through before?
Knowing what you want from your workout empowers you to reach your goals.
Find Exercises You Enjoy
If you're struggling to find a workout that meets your needs, you have options:
Take an exercise class with friends: Have you always wanted to try kickboxing, pole dancing, or another less common sport, but are too nervous about signing up alone? Find a willing friend and sign up for a class together!
Take a hike: Hiking is a fabulous way to explore your region's natural beauty, improve your mental well-being, and connect with the world around you.
Become a bike commuter: Sick of starting your day sitting in traffic? Skip the gridlock and get a workout by commuting via bicycle instead.
Take a dance class: The fluid movements of dance are another way to connect your mind and body while toning up and slimming down.
Go swimming: Swimming not only builds full-body strength and endurance, but is also a great stress relief and a time when you can enjoy the peace of near weightlessness.
Focus on How You Feel, Not How You Look
Rather than focusing on how your body looks after working out, pay attention to how it feels. Before you notice your pants growing loose, you'll notice changes over time including:
Better sleep
Increased energy
Stronger muscles
Sometimes even less pain
It's inevitable that at times, you're going to feel sore from a workout, which isn't a welcome side effect when you deal with pain on a regular basis.
CBD oil can be a great aid to your recovery. It can help reduce inflammation and improve mobility, according to studies. You may also find that by taking CBD oil, you have less anxiety and are in a better mood. Make sure you check with your doctor first before taking CBD.
Once you get their approval, you can start researching CBD oils on the market.
Tracking workout progress is another excellent way to stay motivated on your fitness journey. Bodybuilding.com recommends keeping a log that tracks what you did in each workout.
That way, it's easy to look back and see how your endurance and strength have grown over time, as well as log what works and what doesn't.
Conclusion
Contrary to what you might think, working out is beneficial for chronic pain sufferers.
By choosing workouts you enjoy, fitting exercise into your schedule and adopting a positive mindset toward your fitness routine, you remind yourself what staying active is really all about: caring for your body and mind so you can live life to the fullest.
This article was written by personal trainer Jason Lewis. Find more of his work at strongwell.com
Image via Unsplash