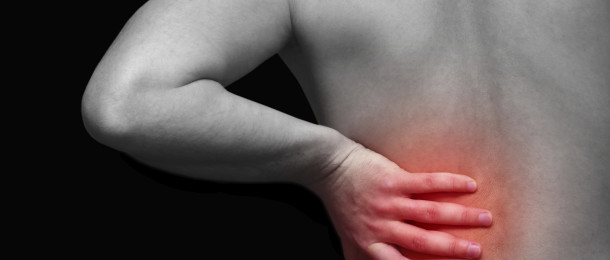 Are you burdened by chronic back pain? You are not alone, back pain is the second most common reason people visit the doctor in the US. If you have reported your pain to your doctor and told that you don't have an acute injury and are just plagued with back pain that seems to have no cause, then there are easy ways to manage your back pain, so it stops interfering with you being able to lead a happy, productive life. Try one or more of these seven tips to help you manage your chronic back pain.
1. Replace That Stiff Mattress That May Be Making Your Chronic Back Pain Worse
One way that many chronic back pain sufferers unknowingly contribute to their own symptoms is by sleeping on an old mattress or the wrong type of mattress. Years ago, doctors recommended that sufferers of back pain sleep on very firm mattresses. Today, mattress recommendations have changed, and a survey conducted by Harvard Medical School actually revealed that people who slept on the firmest mattresses experienced the worst quality of sleep.
What is the best mattress for back pain? The answer actually varies from person to person. Only super-soft and super-firm mattresses should be avoided. To find the best mattress for you, visit a showroom on a day when your back pain is acting up and choose the mattress type that helps relieve this pain when you lie on it.
2. Choose the Right Computer Chair
Whether you sit at a computer desk all day long while at work or just spend a few hours in the evening browsing social media websites, sitting in the wrong chair can cause your back pain to worsen. Make sure the seat of your chair is cushioned and the back of their chair offers lumbar support.
3. Position Your Computer Properly
You also want to make sure that your computer is properly aligned with your line of vision to keep back pain away. If your computer is too low, then you may hunch your back as you look down at the screen.
Make sure that when you sit down at your computer, you can comfortably view the screen when looking straight ahead. If not, then adjust the height of your computer chair or purchase a new chair or computer desk that allows you to view the screen in a more comfortable fashion.
4. Make Heat Therapy a Habit
There are many easy ways to apply heat to your achy back, and you shouldn't wait until your back pain is at its worst to do it. Heat relieves pain immediately by disrupting the nerve signals your back is sending to your brain that sense pain. However, it also increases blood flow to your back that aids in healing.
Try a heating pad on a "low" setting when you are at home and try the self-heating pads that you can stick onto your aching back when you are away from home.
5. Try TENS
TENS stands for transcutaneous electrical nerve stimulation, and this therapy has been proven to help relieve back pain. There are small, portable TENS units on the market today that you can use at home.
Similar to heat, the low-intensity electronic impulses the machine sends to your back interferes with the "message" your body is sending to your brain that tells it you are in pain. The mild electric current also causes your brain to produce endorphins, which are your body's natural pain-killing hormones.
6. Hit the Spice Cabinet and Try Turmeric
If you have ever eaten an Indian curry dish, then you may have already tried turmeric and not even realized it. Turmeric has reached new popularity due to not only its taste, but also its great health benefits.
Turmeric has natural anti-inflammatory properties that make it very beneficial to anyone dealing with chronic pain,including back pain. Just mix 1/4 teaspoon into a small glass of milk or sprinkle it on a meal each day, and you may be surprised at how much pain relief it gives you.
7. Strike a Few Pain-Relieving Poses at a Local Yoga Studio
Strengthening your back muscles can help aid in pain relief as well as gentle stretching of them several times each week. You can help strengthen your muscles while stretching at the same time by performing yoga.