Diplomate of the American Board of Anesthesiology Board
Fellowship Trained in Pain Medicine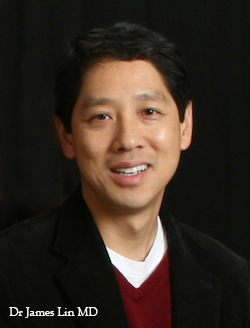 Dr. James Lin is board certified in anesthesiology and pain management. He received his training by top experts in pain medicine at UCLA. He is a compassionate physician that incorporates a comprehensive plan in treating one's pain. Dr. Lin is a four time winner of the Patient's Choice Award (2008-2012) and two time winner of the Compassionate Doctor Recognition (2010-2011). He provides personal patient care as a pain doctor at his medical clinic, the Comprehensive Pain Institute, which was founded in 2006.
Dr. Lin was born in Oak Park, Illinois and grew up in the western suburbs of Chicago. He earned his undergraduate degree at the University of Illinois, Urbana-Champaign achieving the Dean's List and obtained a master's degree in neuroscience at Northwestern University in Evanston, Illinois. He completed his Doctor of Medicine at Rosalind Franklin University in northern Chicago. Following medical school, he completed an anesthesiology residency at Rush University in Chicago a Nationally Best Ranked Hospital by US News and World Report. He then continued his education and training in a pain medicine fellowship at UCLA, recognized as one of the top programs in the country.
Publications
Abstract:
Marc B. Cheng, Andrew Seltzer, James T Lin, Sharon Sikand, Francis Ferrante. Quality of Life in Sacroiliac Syndrome: A Comparison to Lumbosacral Radiculopathy. Anesthesiology 2005; 103:A975.
Abstract:
Philip Kim, Claudio Palma, Andrew Seltzer, James Lin, Michael Ferrante. Econometric Analysis of the Added Value of Programmability for Intrathecal Drug Delivery Systems. Anesthesiology 2005; 103; A954.
Article:
Schneider, A., Forman, L., Westwood, B., Yim, C., Lin, J.,Singh, S., and Beutler, E. The Relationship of the -5, -8, and -24 Variant Alleles in African Americans to Triosephosphate Isomerase (TPI) Enzyme Activity and to TPI Deficiency. Blood 92:2959-2962. 1998.
Article:
Lin, JT, Kornhauser, JM, Singh, NP, Mayo, KE, Takahashi, JS. Visual Sensitivities of nur77 (NGFI-B) and zif268 (NGF-A) Induction in the Suprachiasmatic Nucleus are Disassociated from c-fos Induction and Behavior Phase-Shifting Responses. Mol Brain Res. 1997 Jun, 46; (1-2): 303-310.
Abstract:
Schneider, A., Forman, L., Westwood, B., Yim, C., Lin, J., Blackstone-Gardner, R., Singh, S., and Beutler, E. New Insights Into the Interrelationships of the -5, -8, and -24 Mutations with Triosephosphate Isomerase (TPI) Deficiency. Blood 90 (Suppl. 1): 273a, 1997.
Abstract:
Lin, J. and Schneider, A. Defects in the Triosephosphate Isomerase (TPI) Gene 5' to the Coding Region are Apparently Not the Cause of the High Incidence of TPI Heterozygosity in African-Americans. Summer Research Symposium at the Chicago Medical School, September 1996.
Abstract:
Lin JT, Kornhauser JM, and Takahashi JS. Photic and Circadian Regulation of nur77 and zif268 Gene Expression in the Hamster Suprachiasmatic Nucleus. Society for Research and Biological Rhythms, May 1994.